PERFORMANCY FORUM takes place at: Panoply Performance Laboratory: 104 Meserole Street, Brooklyn, NY
UPCOMING EVENTS:
May 13: PERFORMANCY FORUM: night terrors, sandwiches, and dream logics, 7PM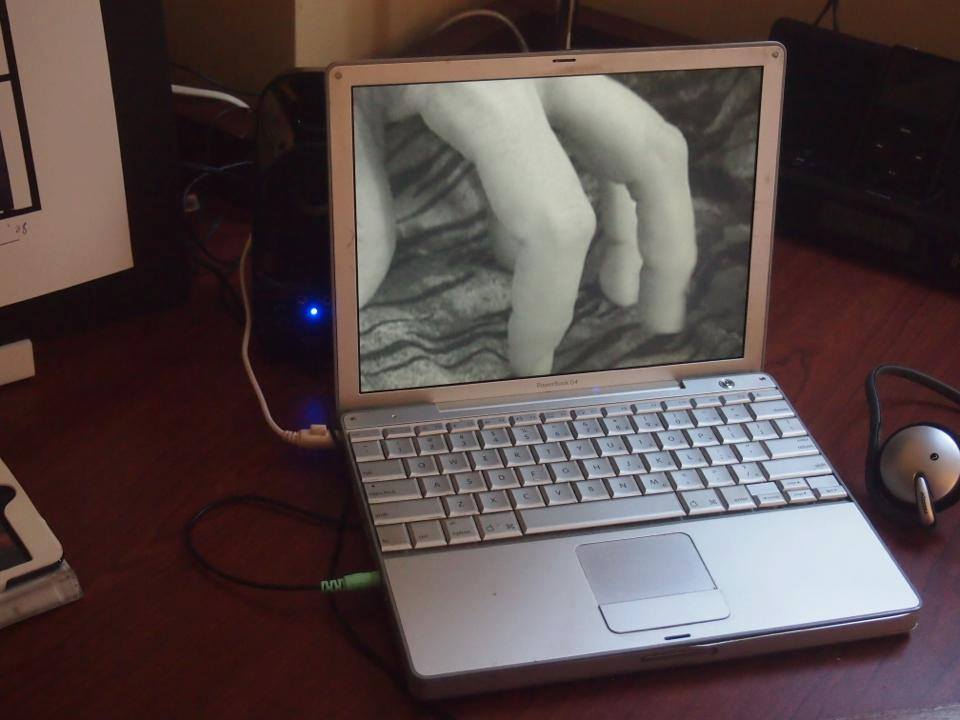 TARA AND DAVID GLADDEN: "The Sleep of Reason Produces Monsters"
AYANA EVANS
DIANE DWYER: "Night Sandwich"
QUINN DUKES

++++ABOUT THE ARTISTS/WORK++++
Quinn Dukes is a multimedia performance artist, activist and curator based in Brooklyn, NY. Her work addresses sensory dynamics, social injustice and ritual. She has performed in galleries and festivals across the United States including Fountain Art Fair, Lumen International Video & Performance Festival, Wassaic Festival, Grace Exhibition Space, Local Project and Gallery Sensei. Dukes has received reviews in Flash Art, NY Arts Magazine, D/Railed and WhiteWall Magazine and written for blogs: Art in New York City and Art in Brooklyn. In 2014, following a heated discussion about the death of performance art, Dukes founded Performance Is Alive. She is a tireless advocate for performance art and higher education via appointments at Grace Exhibition Space (Brooklyn) and the School of Visual Arts (NYC).
Diane Dwyer was born in Japan, and grew up in New England.
She is an interdisciplinary artist focused on investigations of performance through public interventions and private actions. She is also curious about the performative aspects of drawing and other indexical signs. She lives in Brooklyn, where she host Diane's Circus and cloyingPARLOR, two projects in her home addressing, in part, the negotiation of public and private space, as well as the labels 'amateur' and 'professional.' She received her BFA from The Museum School/Tufts University, and her MFA through a teaching fellowship at the University of Connecticut. She is currently a part-time Assistant Professor at Parsons School of Design, and adjunct faculty at Stevens Institute of Technology.
Ayana Evans is a NYC based artist. She frequently visits her hometown of Chicago whose Midwestern and sometimes controversial reputation is a major influence on her art. Evans received her MFA in painting from the Tyler School of Art at Temple University and her BA in Visual Arts from Brown University. She has attended the Skowhegan School of Painting & Sculpture and the Vermont Studio Center. In 2015 she received the Jerome Foundation's Theater and Travel & Study Grant for artistic research abroad. Summer 2016 Evans completed her installment of the residency, "Back in Five Minutes" curated by Nicolas Dumit Estevez, at El Museo Del Barrio in NYC. Evans's on-going performances/public interventions include: "Operation Catsuit" and "I Just Came Here to Find a Husband." Other recent works by Evans are: "Thoughts on Rape; A Response to After Midnight by SHPC" Queens Museum, NYC, "Parasol" a triptych video collaboration with Zina Saro-Wiwa, Tiwani Contemporary, London, and "Stopping Traffic," Gallery Sensei, NYC, and "Make Your Own Way" at Satellite Art Fair, Miami, and "Gurl I'd Drink Your Bathwater," PRIZM art Fair, Miami. Additionally, Evans has curated and co-curated performance art show throughout New York, worked in arts education for a decade, and is Editor at Larger for www.cultbytes.com. Her recent press includes articles on New York Magazine's The Cut, HyperAllergic, the Huffington Post andgallerygurls.net. For more information on her upcoming project and impromptu public performances follow her on instagram @ayana.m.evans and visit www.ijustcameheretofindahusband.com.
C Tara and David Gladden are collaborative, interdisciplinary artists who use sound, video, installation, and performance to investigate ideas of identity, gender, psychology, politics, and perception. Their work has been presented/exhibited both nationally and internationally.
The Sleep of Reason Produces Monsters references surveillance and ​Ganzfeld experiments to explore concepts of mind control and paranoia. This work delves into the darkness of subconscious experience; phenomena such as sleep paralysis, possession, and altered states. The darkness is a pit of resistance, of fear, of awareness without control. It is also a place where one can confront the darkness, where one can emerge with awareness of deeply buried secrets: a site of confrontation, struggle and transformation.
C Tara holds a BM in Voice Performance from Boston University. David holds a BFA in Creative Writing from the University of Colorado, Boulder. Both hold MFAs in Performance and Interactive Media Arts from Brooklyn College and are educators at Salisbury University in Salisbury, MD. David is an Assistant Professor of New Media Art and Tara is Art Galleries Manager and a Lecturer in the Art, Music and Interdisciplinary Studies Programs. Together, they curate the Seeing Sound Series and Electronic Gallery at Salisbury University as well as special projects at their own venues: John Cage Memorial Park in Chance, MD and at W.O.R.K., a center for experimental art on the downtown plaza in Salisbury, MD.​
---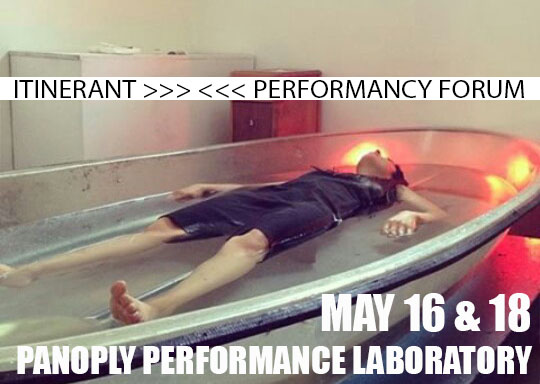 May 16: ITINERANT
May 18: PERFORMANCY FORUM: livability and mobility
temporal movement, exchange, bridging, straddling, continuence, repetition, connection, transfer, continuence, suspension, relationship BETWEEN/THROUGH/ACROSS TWO EVENINGS OF PERFORMANCE: Tuesday, May 16 and Thursday, May 18. Both nights of performance are open to the public starting at 8pm, situating work by:
SIERRA ORTEGA
RAKI MALHOTRA
MELI SANFIORENZO
ABBEY OF MISRULE (Kubik/Giera)
ANYA LIFTIG
This dual exhibition is also a collaboration between the ITINERANT Festival (May 16 is part of the 2017 Festival) and PERFORMANCY FORUM, two of NYC's longest-running platforms for performance art. This pair of evenings is organized by Esther Neff.
ITINERANT was created by artist Hector Canonge. The initiative was a small platform for Contemporary Performance Art, and had its origins in the monthly series A-Lab Forum that Canonge organized at Crossing Art Gallery in Flushing, Queens. Following the growing interest in Live Art, and the need to present performance in the borough, ITINERANT was launched in 2011 under the auspices of QMAD, Queens Media Arts Development. In 2012, ITINERANT was recognized by the City of New York as the first Performance Art festival taking place in the five boroughs (Queens, Manhattan, Bronx, Brooklyn and Staten Island) that make the metropolitan region. Following the large scale venture in NYC, Canonge journeyed through Europe and Latin America creating, in 2013, the Spanish edition of the festival and calling it Encuentro ITINERANTe with public presentations in various cities in the Southern Hemisphere. In 2015 the festival featured 30 artists from over ten countries with presentations at the Queens Museum, Bronx Museum of the Arts, Momenta Art, Glasshouse ArtLifeLab. The Atrium of PS 69 in Jackson Heights hosted the opening and closing nights of the festival. Public Interventions took place at 37th Rd. Pedestrian Plaz and at Manuel de Dios Unanue Triangle Plaza, Roosevelt Avenue and 83rd Street.
ITINERANT Web: http://www.hectorcanonge.net/itinerant
ITINERANT Facebook: https://www.facebook.com/itinerantpafnyc
ITINERANT Blog: http://itinerantpafnyc.blogspot.com/
PERFORMANCY FORUM: http://www.performancyforum.net/
(header background image: Raki Malhotra)
---
Please visit PPL on Facebook and the PPL Website for Event information
PAST EVENTS:
(most recent to least):
Regarding Female/Female Regards
PERFORMANCY FORUM: BIOMASS/MICROBIOMES
Vehicle Relocation Program
Shadowing Josephine: Jade Monserrat
Buffalo Bailey's Ranch for Gay Horses and Troubled Teen Girls